Birdies Original Raised Garden Bed History
The Birdies Original Raised Corrugated Garden Bed was first identified by Simon Bird in 2007 who as a keen Gardener observed farmers cutting their old corrugated water tanks in half to use as raised garden beds. Corrugated water tanks are very popular in Australia.
With this in mind Simon decided to have these corrugated Garden beds manufactured for his own use, which were used to grow his own veggies. They looked great and were very user friendly. It was then discussed as to whether this product might become of commercial value.
Within a few months Simon subcontracted the bending of the beds and then did final product assembly in his garage. Initially the beds were delivered to homes, whole in the back of a rickety trailer and pulled with a 1985 Toyota Landcruiser that would constantly overheat in the Queensland summer.
The initial Birdies Original bed was manufactured whole which was 3 meters x 1.5 meters in 2 heights. This proved difficult to deliver to homes as more and more orders came in. The product was then broken down into 2 halves, predrilled and supplied with nuts and bolts which allowed for the beds to be nested into each other allowing us to deliver more cost effectively as demand increased.
Shipping around Australia was then investigated. We reduced the size of the beds to 2.2m x 1.2m this allowed for the two halves to fit into each other on a pallet and with this configuration up to 20 garden beds could be shipped on a single pallet.
The corrugated components had punched holes and the two halves were screwed together to form the 2.2m x 1.2 meter garden bed, shipping then became more cost effective. We eventually supplied short straight sheets on these pallets to allow the customer to extend the size of their beds, this was the beginning of our Modular range.
In 2008 we displayed at 2 Garden expos in SE Queensland, and we were inundated with orders and potential sales with approx. 2000 brochures handed out in the first day of the show.
It was then decided to start our own manufacture.
It was at this time that Neill Bosch who has 40 years of manufacturing experience joined Simon Bird and Birdies own Manufacture was born.
A 160 square meter premise was rented, and machinery bought for in house manufacture, and so the journey began.
Simon and Neill continued to design innovate with the view to making the product suitable for retail and online sales.
Very first prototype of the modular original range in 2009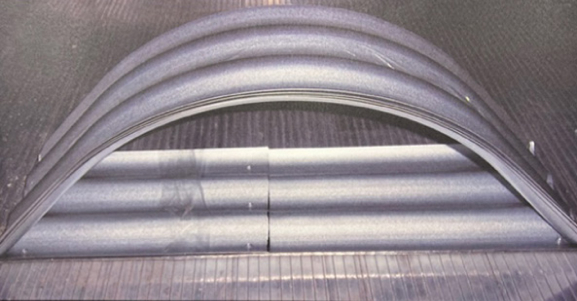 In 2009 the All New Birdies Original Modular Raised garden bed prototype was manufactured.
Not only could it fit into a box suitable for a small car boot, but it was also designed to configure into various shapes and sizes all within the one kit (6 in 1, 8 in 1, and 9 in 1), was shelf friendly with cost effective shipping.
Innovation patents were successful.
This New Original Kit form garden bed was introduced to the largest Hardware retailer in Australia (Bunnings) which quickly became the #1 raised garden bed in Australia.
This Original Range has been sold through retail and online and used successfully for the past 15 years, a true testament to its innovation, quality, and longevity.
Birdies moved from Simon's Garage to a 160 sqm facility in 2008, to 500 sqm in 2008, to 900 sqm in 2010, to 1500 sqm in 2012, to 2000sqm in 2017 and currently Birdies Garden Products occupies a 5000 sqm manufacturing facility, with state-of-the-art equipment that manufactures for the Australian and international market.
Innovation has been the key to the success of the Birdies Brand and now boasts more than 1000 SKUs in raised garden beds with the kit form the basis of most of the products marketed and manufactured by Birdies.
In 2016 Tim Bosch joined the company and brought to the business new innovative product ideas, modernising production planning, CNC programing and has a wealth of knowledge in IT, web design and social media platforms, Tim became a director in 2018 and has continued to add value to the business and contribute to its continued growth.
Birdies is a family owned and operated business and has a team dedicated to the company and the Brand.
We all strive to bring value to the business with a focus on continued growth with Quality Innovative products for the home Gardener, "Made by a Gardener, for the Gardener" being our slogan.
The Birdies Kit Form Garden Bed known as the Original Modular Raised Bed was the first of its kind in the market innovated and designed by Simon Bird and Neill Bosch and any kit form corrugated round corner modular raised garden bed boasting multiples configuration are a copy.
There are a number of beds manufactured in China that are a direct copy of the Birdies Original.
Tests have proven these products to be substandard when compared to Birdies.
Many claim to be the originator of this product and they are not.
Birdies pride themselves in designing all their own products manufacture in Australia and refrain from copying other people's ideas.
Our products have been proven over the past 15 years and we plan to serve the gardening community with new quality products on a continued basis.
Browse the Birdies Product Range